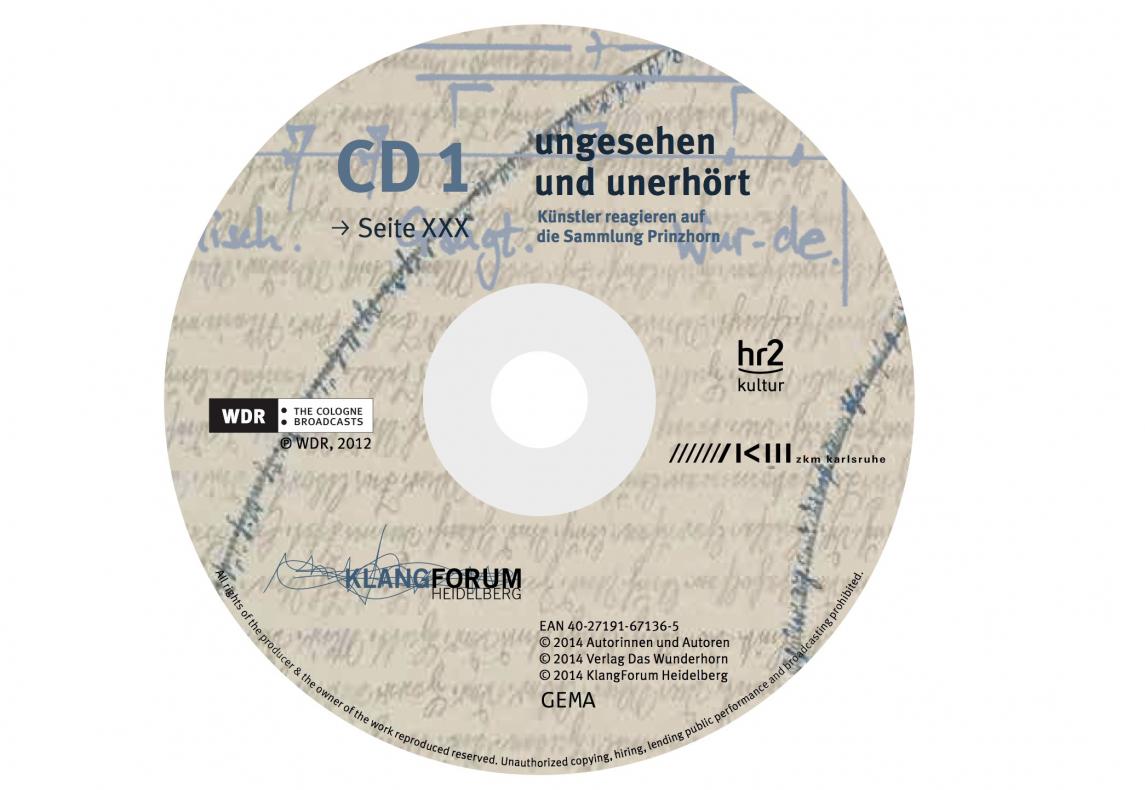 The vanishing point lies in the future. The first five KlangForum Heidelberg commissions based on texts and works in the Prinzhorn Collection were timed to coincide with the opening of the new building housing the collection. Since the first performance of these works in September 2001 by the SCHOLA HEIDELBERG and the ensemble aisthesis under Walter Nußbaum, the Prinzhorn Project has generated a further two dozen works by 22 different composers performed at renowned contemporary music festivals and produced and disseminated by public broadcasting.
Composer, Work (year first performed)
Cornelius Schwehr, schlafen, träumen, singen (2001)
Steffen Schleiermacher, Muzika (2001)
Michael Reudenbach, kommen - Überschreibungen (2001)
Bernd Asmus, Madrigal (2001)
Caspar Johannes Walter, krumme dinger 1, krumme dinger 2 (2001), krumme dinger 3 (2002)
Friedrich Jaecker, von dir gehn (2005)
Steffen Schleiermacher, Der Fingernase fehlt die Schädeldecke (2005)
Johannes Nied, Wie die Knosp am Rosenstock (2005)
Thomas Stiegler, Und.Ging.Außen.Vorüber. II (2005)
Cornelius Schwehr, ohne Ufer, eine Einladung (2005)
Caspar Johannes Walter, Schattenrufe (2006)
Jan Kopp, Grenzen der Verantwortung (2006)
Uwe Lohrmann, … erlaube ich mir, an die Seelenwanderung zu glauben … (2007)
Jay Schwartz, Music for Six Voices III (2008)
Matthias Kaul, fremd, bestimmt (2008)
Matthias Ockert, Primum Mobile (2008)
Nigel Osborne, Naturtöne/Abschied (2008)
Johannes Kalitzke, -inn Stufender sonderung (2008)
Georg Friedrich Haas, Arthur F.Becker (od.Buhr?) (2010)
Michael Maierhof, Exit B (2010), Exit D (2011)
Stefano Gervasoni, Horrido (2011)
Gérard Buquet, Die Malerin von Bellevue (2012)
Naomi Pinnock, The writings of Jakob Br. (2013)
"Untutored mental patients, particularly schizophrenics, quite frequently come up with (partly) pictorial efforts that deserve to be seriously considered as artworks and often display surprising similarities with pictures by children, primitive peoples and different eras of civilisation. Their closest relation, however, is to the art of our times [...] These artistic efforts vouchsafe new insights into the workings of the troubled mind [...]. Today, clear delimitation of these products from the realm of art (painting and sculpture) is only possible on the basis of a dogmatic attitude that has outlived its own usefulness.
In short, all is in flux."
(Hans Prinzhorn, The Art of the Insane: a contribution to the psychology and psychopathology of artistic endeavour, 1922)
The book ungesehen und unerhört 2 – Künstler reagieren auf die Sammlung Prinzhorn ("Unseen and Unheard 2 – Artistic responses to the Prinzhorn Collection") edited by Ingrid von Beyme and Thomas Röske and produced by Verlag Das Wunderhorn, Heidelberg in 2014 is the first publication to assemble and disseminate the Prinzhorn works of KlangForum Heidelberg. Alongside detailed articles on the history of the Prinzhorn Collection, the lavishly illustrated volume contains four CDs with first recordings of most of the works commissioned.
The compositions issuing from the "Prinzhorn Project" received much acclaim from enthusiastic audiences and glowing reviews in the regional and international media. They were heard at the KlangForum's own series in Heidelberg, the Tage für Neue Kammermusik in Witten, in Darmstadt (EUMETSAT), in Frankfurt (auditorium of Hessian Radio), at the Tongyeong International Music Festival in South Korea, at the mdr Musiksommer in Leipzig, and the Romanische Nacht in Cologne.
Between 1919 and 1921, Hans Prinzhorn (1886–1933), art historian and assistant physician at Heidelberg's Psychiatric Hospital, laid the foundations for a unique collection of artworks and written records by psychiatric patients. Ultimately the collection contained 6,000 drawings, water-colours, paintings, sculptures, textiles and texts created between 1840 and 1945. Since 1980, the Collection has been supplemented by other works from psychiatric wards. With rare perspicuity, Prinzhorn saw the works he assembled as a collection of parallels with the avant-garde. For him, they were not just evidence of mental decay but artistic statements in their own right.
The "Prinzhorn Project" has adopted this perspective and maintained it to the present day.